Our Growing AI Footprint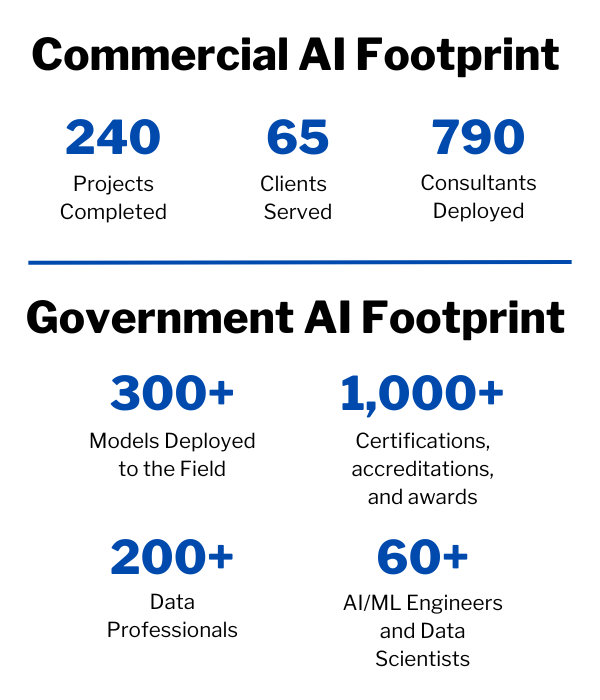 Apex Systems, the largest business in our Commercial Segment, has deployed 790 consultants across 65 clients to complete 240 artificial intelligence projects. 
ECS, our Federal Government Segment, is the number-one federal contractor supporting the government's AI missions.1  We have over 1,000 combined certifications, accreditations, and awards in AI/ML, have deployed more than 300 models to the field, and employ 200-plus data professionals and more than 60 AI/ML engineers and data scientists. 
Everyday our experts help commercial and federal organizations derive actionable insights from vast amounts of enterprise data, discover hidden patterns within that data, and make accurate predictions to increase the efficiency of their teams. 
Investing in AI to fuel our Clients' and ASGN's Future Growth and Success
At ASGN, we recognize that our clients – large enterprises and Fortune 1000 companies, along with federal defense, intelligence, and civilian agencies – are all looking to meet their business challenges at greater speed and with more accuracy and precision. AI is no longer an optional investment, but the cornerstone of breakthroughs, efficiencies, and experiences. By harnessing AI, our clients are powering a smarter future and unlocking the full potential of their products and people. We recognize that AI is not just a tool, but the foundation of organizational acumen steering enterprise decisions and strategies. AI surpasses task automation and provides a powerful ally for augmenting human intelligence.
Along with our clients, ASGN is strategically investing in AI growth and advancements. Our investments span six core areas including:
Generating Digital AI roadmaps to support our clients' long-term business objectives.
Developing key partnerships with leading technology providers from Amazon and Microsoft to Salesforce and ServiceNow;
Deploying internal tools, including AI solutions, that create efficiency and empower our teams;
Hiring and retaining AI leadership;
Deploying top-notch talent;
Conducting training and advanced skill development.
We are fast adopters of new technologies and see advancements in new forms of artificial intelligence as key business drivers with the potential for great growth opportunities. Therefore, it is not just about investing in talent and solutions capabilities to support our clients, but also investing in our own internal AI expertise. The AI experiments and labs we perform internally to support our own organization ultimately add to the experiences we bring to our clients. We are leveraging AI technologies internally to create efficiencies such as with project management (see AgileGenius below) as well as deploying intelligent solutions externally to propel our clients' businesses to new heights.
More on Our Established AI Capabilities
AI is not just transforming; it is revolutionizing the fabric of our lives. As society learns to leverage the capabilities of AI, ASGN is closely working with our clients to develop novel use cases that integrate with their long-term, strategic IT roadmaps. We are taking our multi-layered roadmap to the market, offering clients ways to apply AI technologies at the job, departmental, and industry level. As we pride ourselves on providing the right talent, at the right time, for the right price, each use case, while leveraging best practice, is tailored to our clients' individual needs. We have seen demand for our AI services become one of our fastest growing services within our commercial offerings, with AI bookings in the second quarter of 2023 greater than the past two quarters combined.

Recognizing the importance of artificial intelligence, over the past several years, Apex Systems has built a team around our AI solution, with leaders in specializations including Cognitive Science, Predictive Modeling, and Generative AI. Our commercial AI solutions capabilities include Machine Learning, Natural Language Processing, Intelligent Assistants, Computer Vision, Robotic Process Automation, and AI Platform Engineering. We are also leveraging AI to assist with agile project management internally with our business and externally for client projects. Our GlideFast Consulting team recently launched a groundbreaking initiative called AgileGenius, which harnesses the power of AI to automate agile project setup, work allocation, requirement linkage, SCRUM task creation, and more. By saving time and reducing errors in agile project setup, ASGN and our customers benefit from cost efficiency. You can learn more about AgileGenius here. You can also explore Apex System's full AI capabilities and review informative case studies on our successful client work on Apex System's website.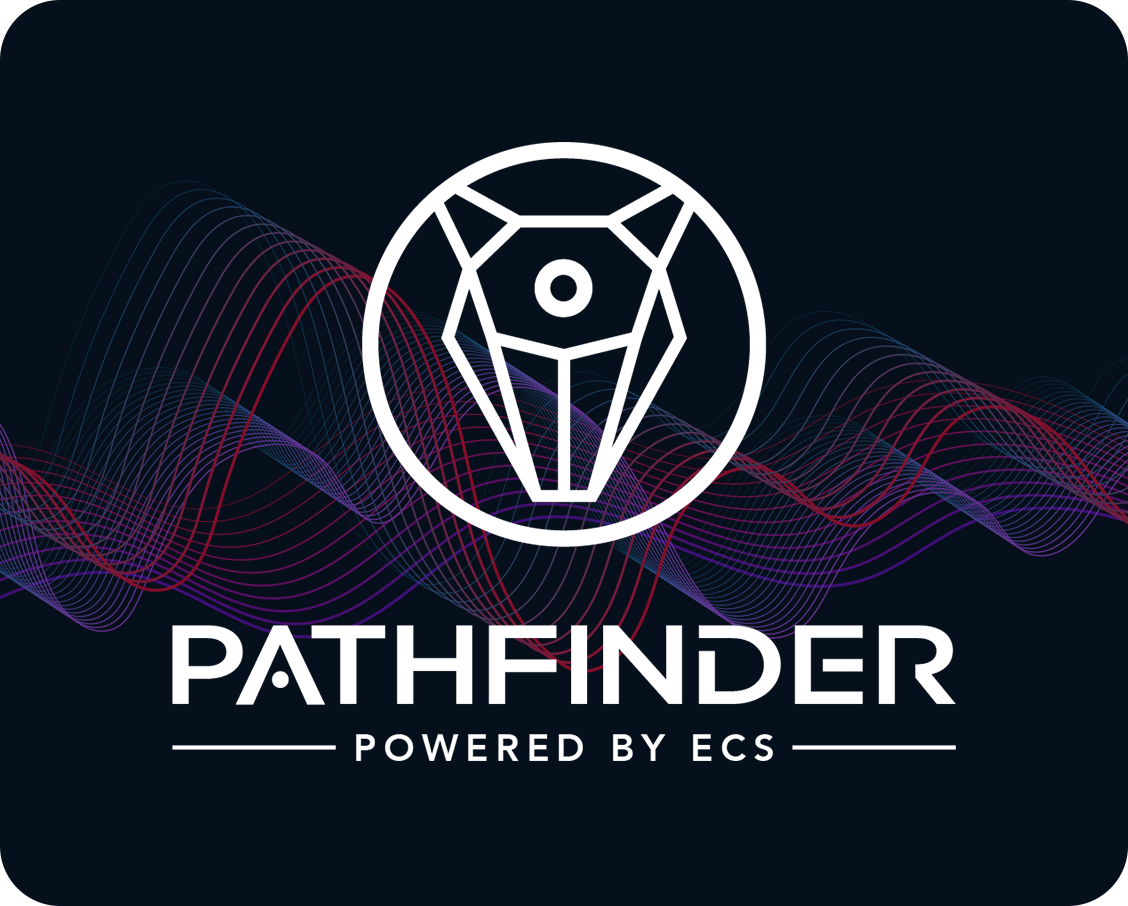 ECS has built an artificial intelligence procurement, development and testing capability to bring the latest and most innovative commercial technologies and solutions online for sensitive government missions. Our solutions have helped our government clients develop computer vision models for unmanned vehicles and commercial satellites to support Department of Defense, Intelligence Community, and Emergency Preparedness and Response missions. In addition to computer vision, ECS offers practical solutions in natural language processing, geospatial intelligence, cyber analytics, Publicly Available Information (PAI) Research, rapid retraining, and responsible AI. Together these solutions support data management, eliminating the burden of processing, collecting, and analyzing data. We manage structured and unstructured data pipelines across multiple domains to get the right data where it needs to be and when it needs to be there. With regards to cyber analytics, ECS Pathfinder leverages AI to minimize system vulnerability by producing interactive visualizations of client networks to understand the location of a compromise, likely attack paths and generate patching and segmentation recommendations. Pathfinder prioritizes cyber risk by attack probability and urgency.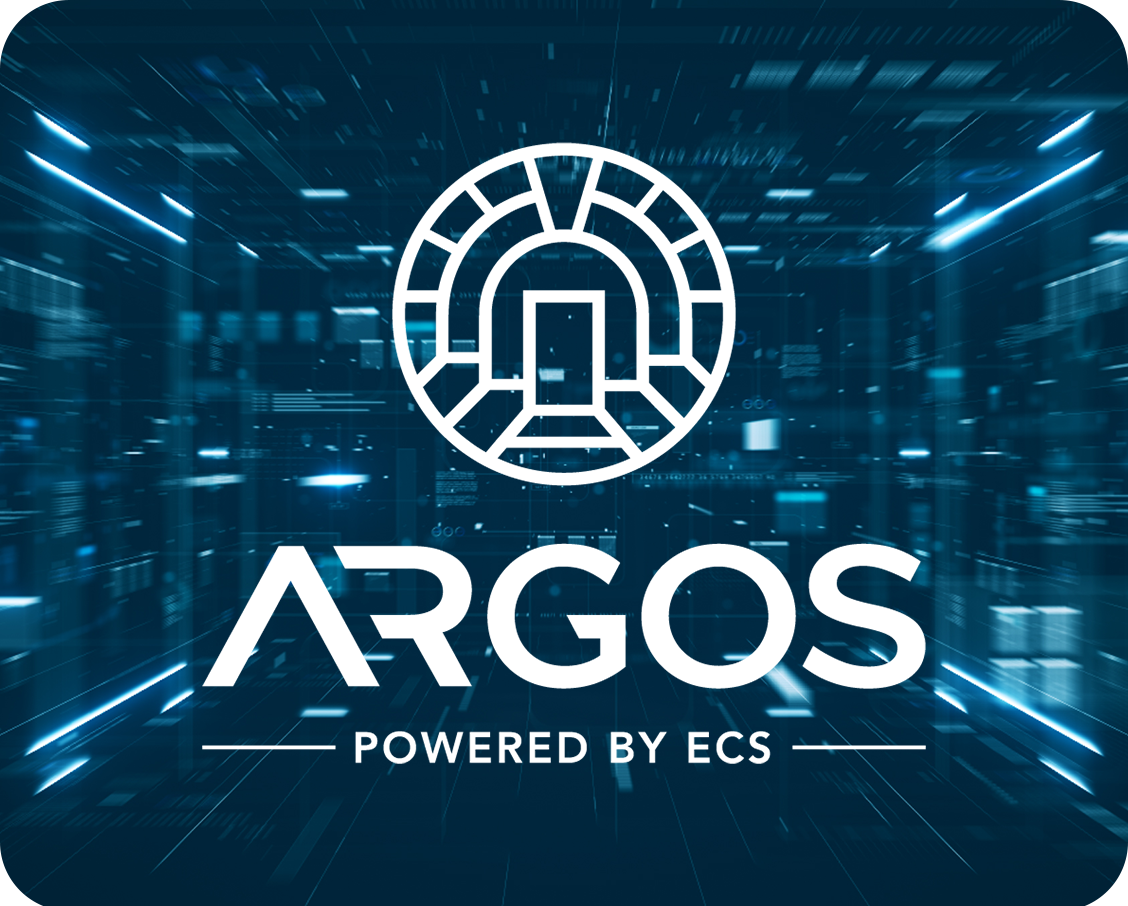 Turning to PAI research, ECS Argos is a secure platform to anonymously leverage PAI, data science, and advanced analytics to produce actionable open source intelligence. By having secure access to large language models, Argos automates intelligence analysis and saves our clients hundreds of working hours. 
Importantly, we continually drive thought leadership, investment, and training through our ECS Data and AI Center of Excellence, our hub for training and innovation. Learn more about how our government team manages the unmanageable with AI-fueled data insights here.
Our Experienced AI Leadership
Our executive team garner decades of industry experience at the forefront of the AI technology landscape. Read more about our outstanding leadership.
Our AI Efforts in Action
Interested in learning more about our AI services and solutions in action? Check out these links on some of our recent work in artificial intelligence as well as review Apex Systems' and ECS' artificial intelligence pages.
Commercial Segment Case Studies:
Health System Custom Web and AI App
Predictive Forecasting for a Global 10 Oil and Gas Company
Pricing Automation for an Automotive Finance Team
Federal Government Segment Case Studies:
Working with the Department of Defense – Algorithm Training
Supporting the United States Postal Service – Visualization and Analytics
Pandemic Analytics – Forecasting the Impact of COVID-19
Connect with Our Teams
Learn more and partner on your next AI solution:
Apex Systems      ECS
---
1"Federal Artificial Intelligence Landscape 2023," GovWin from Deltek.